| | |
| --- | --- |
| Name | BeSoccer v5.3.1 Apk |
| Version | v5.3.1 |
| Size | 24 MB |
| Developer | BeSoccer Apps |
| Price | Free |
| Required Andriod | 5.0 and up |
| Last update | 09/10/2022 |
| Also available on | Playstore |
About BeSoccer v5.3.1 APK:
BeSoccer becomes trusted support when it comes to providing users with important information about football, players, and matches. You can update upcoming games to set times for meet-ups with friends and don't overlook team and player stats. In addition, you also get to know information about player transfers and other users' comments.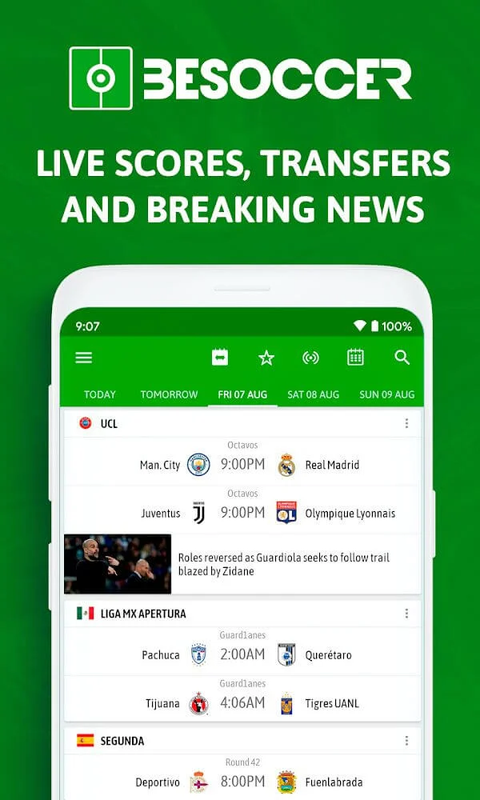 Get information about football easily
If you are a soccer fan, you definitely cannot ignore the information provided by BeSoccer. This information is related to aspects of football such as players, transfer information, and many other types of information that you can easily find. Also, you can easily use the facility and update the information which is considered to be the latest. Surely it will be a tool that will help you not to miss any of your favorite games.
Update information about the start time of your favorite sport
The first element you can find in BeSoccer is information about the sport you are interested in. In particular, know the start time of these games to determine the time and follow their complete progress to enjoy beautiful goals. The app also tells you where the games are being shown so you can have a little party with your friends and wait for the exciting games.
The latest news and transfer information
Important information in soccer always attracts readers and of course, new information will always appear to users in BeSoccer. You can always update more details and easily keep track of all information in one app. At the same time, most people pay attention to player contracts and player transfers, so any new information will surprise fans.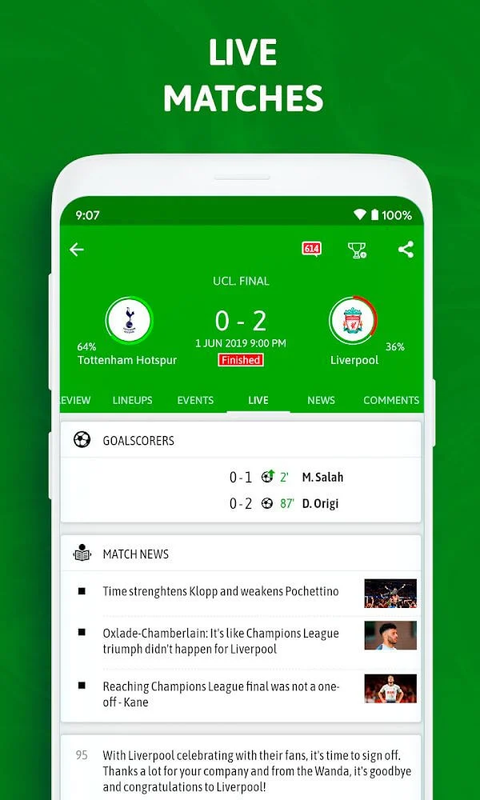 Find and follow athletes you love
If you love a certain player, don't hesitate to use BeSoccer to get information about him. You can see the current position, the number of goals they have scored, and the impressive games they have played. Additionally, the titles they get are also a factor that many people are interested in, so you can update them. Information You will understand the basics of football quickly and over time.
Take advantage of the app's statistical data
It can be said that the application has a large source of data that is systematically transmitted to the reader. It's not just news, it's data properly reported. Thus, key figures are clearly visible to the reader and help him understand the essential elements of the news. In fact, easy-to-understand information is always appreciated, and in particular, the app is always up-to-date on famous players and clubs.
Just search for game comments
One feature that many people will love is the ability to comment on games in progress as the app boasts a large community. This community can comment on matches and share their football insights to predict possible outcomes. Also, the continuous play would certainly not be complete without the presence of comments from many different sources. This allows you to get to know the point of view of other users.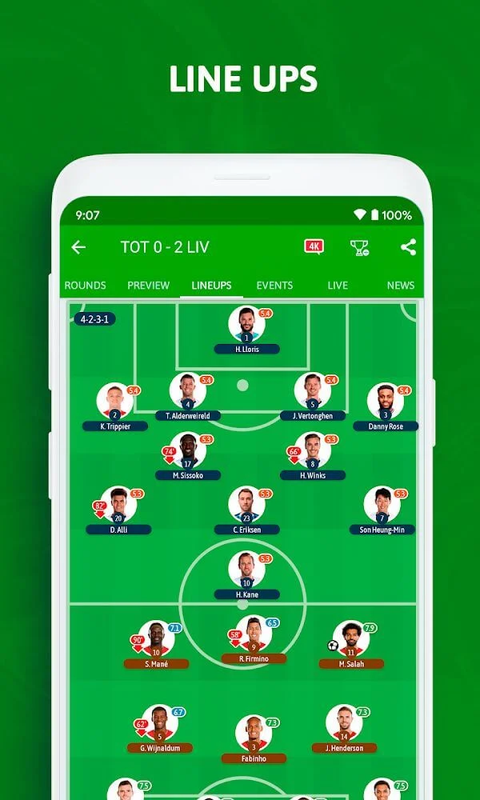 The user interface is easy to use and tailored to the needs of the user
Apart from having a huge amount of information in the application, users will find an interface that is quite easy to use. You can quickly master the features and start finding the information you need. At the same time, after reading this message, users can freely switch to dark according to the situation, which helps the device save energy. It is truly a tool that football lovers cannot ignore.
Users can get useful football information while using the app:
Users are constantly updated with the latest information from the world of football and this information extends to very different content.
You can keep up to date with the stats of the player you are interested in, especially game status and player transfers.
Important games are always a must and you can see when they start and on which channel they will be broadcast.
Comments are essential for users of the app as they allow users to share their knowledge and passion for football.
The application interface is straightforward for many people and according to their needs, they can change the interface to dark.